Indoor AgTech Innovation Summit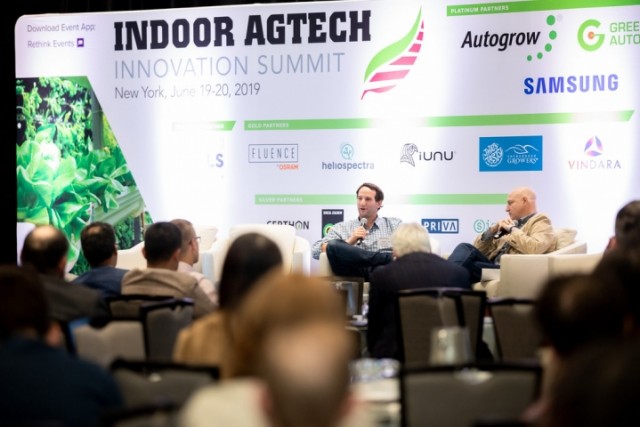 On June 24-25, 2021, there is the Indoor AgTech Innovation Summit online. This Summit will talk about "Towards Greater Profitability and Scale in CEA and Vertical Farming". This event "providing an essential opportunity for the industry to meet, network and exchange ideas at this critical time for our industry."
"The virtual Indoor AgTech Innovation Summit on June 24-25 will gather the world's leading farm operators, retailers, food companies, investors, seed companies, and technology providers to meet, network, and cultivate new commercial partnerships.
350+ attendees from the US, Europe, the Middle East, and Asia will participate in Livestream sessions, join roundtable discussion groups and connect directly through 1-1 video meetings and group chats.
By sharing best practices from around the globe, and facilitating new connections and collaborations, the summit offers an invaluable platform to develop new business and accelerate projects across the Indoor AgTech ecosystem."
2021 Key Themes :
- Hands(Free Cultivation: Latest developments in robotics, automation and AI
- New Crops: Mapping a pathway to mass production
- Retail Insights: Breeding a competitive advantage
- Seed Optimization: Breeding a competitive advantage
- Financial Models: The investment models scaling the industry
- Advanced Growing Environments: Blurring lines between lighting and genetics
- Profitability at Scale: The technology driving down OPEX
- Food Systems: Bringing food into urban planning
- Direct to Consumer Business Models: Scaling beyond a city
- Energy Efficiency: Driving down the costs of optimum operations
"Livestream sessions start at 11 am US Eastern Time, 9 am Pacific Time, 3 pm BST, 4 pm CET, 1 am SGT. All times below stated as Eastern Time."
Wednesday, June 23 at 16:30, there is the Food for the Next Frontier: NASA & CSA Food for Space Workshop.
" This workshop brings together NASA and CSA scientists and operators to discuss the current state of food production technology for both space and Earth".
Thursday, June 24, the events took place between 10:30 and 17:30.
Programm :
- 10:30: Pre-Summit Breakfast Briefing: The UK's Produce Landscape
- 11:00: The Impact of Indoor: Bringing Food to the Heart of Cities
- 11:40: Networking Power Hour
- 12:20: Financing Resilient Food Systems: Why the World's Most Renowned Investors are Betting on CEA
- 12:40: Live Q&A Retailer and Grower Partnerships: Driving Food Security and Sustainability in the Middle East
- 12:50: Buyers and Growers: Establishing a Successful Partnership
- 13:30: Mapping a Pathway to Competitive Production
- 14:00: Insights in Flavor and Trait Optimization
- 14:10: Seed Optimization: Unleashing the True Potential of Indoor Cultivation
- 14:50: Innovation Deep Dive: Breaking New Ground in Plant Genetics
- 15:00 : Roundtable Discussions
- 15:40: Democratizing Access to Fresh Local Produce
- 15:50: Reaching Net Profitability: How It's Done
- 16:30 : Innovation Tour: Automation in Action
- 16:50: Scaling at Speed: Delivering the Promises of a Mission-Led Industry
- 17:30: End of Day 1
Friday 25, events took place between 10:30 and 17h30.
Programm:
- 10:30: Fireside Chat: Investing in The Future of Agriculture
- 10:55: Fireside Chat: Going Public: Understanding How & Why
- 11:20: Investor Debate: Evolving the Role of Finance in Indoor Agriculture
- 12:00: Business Hours Drop-In & Speed Networking
- 12:40: Driving the Future of Farming: Actionable Insights at Scale
- 13:20: Bringing the Digital Farmer to Life
- 13:30: Hands-Free Cultivation: Towards Full Automation
- 14:00: INNOVATION TOUR: Packaging in Action
- 14:10: Energy Usage: Powering a Sprouting Industry
- 14:50 Eliminating Risk: The Power of a Perfectly Controlled Environment
- 15:00: Efficient System Design: What is Possible When Technology Comes Together?
- 15:40: Roundtable Discussions
- 16:10: The Customer is King: Bridging the Gap Between Farm and Fork
- 16:50: Keeping Pace with a Changing Retail Landscape
- 17:30: End of Day 2
Find more information about the event and register here