Virtual Conference : Tree Cities of the world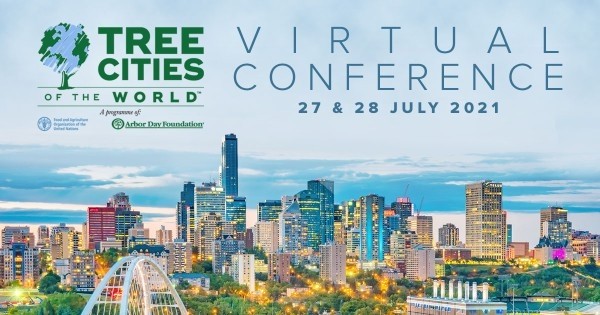 Trees Cities of the world is a program of Arbor Day Foundation. July 27-28 some conferences are organized for the second annual virtual Tree Cities of the World conference.
"This convening offers the opportunity for the growing Tree Cities of the World network of 120 cities from 23 countries to share insights and innovations. Expect to learn from and interact with your peers from all around the globe. This year's conference is free to attend and will be offered in 3 different time zones."
Program :
Monday, July 26 :
- 8:30 pm-10:00 pm: Tree Cities of the World Conference - Day 1
Australian Central Standard Time Zone (ACST)
Tuesday, July 27 :
- 4:00 am-5:30 am: Tree Cities of the World Conference - Day 1
Central Eupean Time Zone (CET)
- 11:00 am-12:30 pm: Tree Cities of the World Conference - Day 1
Central Time Zone (CT)
- 8:30 pm-9:50 pm: Tree Cities of the World Conference - Day 1
Australian Central Standard Time Zone (ACST)
- 10:00-10:20 pm: Partnering on Tree Planting Opportunities with the Arbor Day Foundation
Wednesday, July 28 :
- 4:00 am-5:20 am: Tree Cities of the World Conference - Day 2
Central Eupean Time Zone (CET)
- 5:30 am-5:50 am: Partnering on Tree Planting Opportunities with the Arbor Day Foundation
Central Eupean Time Zone (CET)
- 11:00 am-12:20 pm: Tree Cities of the World Conference - Day 2
Central Time Zone (CT)
- 12:30 pm-12:50 pm: Partnering on Tree Planting Opportunities with the Arbor Day Foundation
Central Time Zone (CT)
- 7:00 pm - 7:30: Become a Tree City in 2021
Australian Central Standard Time Zone (ACST) / Central Eupean Time Zone (CET) / Central Time Zone (CT)
Thursday, July 29:
- Become a Tree City in 2021
Australian Central Standard Time Zone (ACST) / Central Eupean Time Zone (CET) / Central Time Zone (CT)
Find more information and register here